Discussion & Practice
Read Acts 2:42-47. What stands out in the experience of the early church as either similar to or different from your current experience in the church community?
We emphasize often that salvation is about a personal relationship with Jesus Christ, but have you considered that salvation is also about being saved into a community, added to his body? What implications does that bring for how you live your faith and practice the way of Jesus?
Read 1 Corinthians 10:16-17. Participation in the body and blood Christ (his gift of salvation) includes being a participant in the body of Christ, his church. Does the New Testament leave open the possibility of being a believer apart from the church? How strange would that concept be to a 1st century believer?
Consider how radically different the community of the 1st century church was from our own. How does our culture's radical individualism color how we view our place within the church community? Where have I viewed my own life of faith as an individual endeavor?
Would you say you're more of a consumer or a contributor in our church? What about specifically in your Life Group?
Practice: Read 1 Corinthians 11:27-29. What parts of your life in Jesus have you tried to keep to yourself? Take some time to "examine yourselves" this week, then talk to a trusted friend about how he or she could speak into that part of your life. Discuss with them, is this something I've held back that should be submitted to community? What ways of thinking do I need to process with others? What practices should be more communal rather than individual? How can we start to overcome this radical individualism and engage in a more communal way of life in Christ?
Notes
We have opened a can of worms starting this series on the church. We live in an unprecedented time. The fastest, largest religious transformation in history. A de-churching that doesn't show sings of slowing down. For people leaving the church, are they missing something?
The Washington Post did an article on the book The Great Dechurching.
For those of us who have stayed in the church, if the trajectory keeps going, we're all vulnerable to leaving.
I went through the New Testament a couple of times this summer and there were a number of things I needed to be refreshed on.
We're all missing something.
I want you to see how the church comes into being from a grassroots perspective in the New Testament.
I want to start with a chart that will help guide us the next two weeks.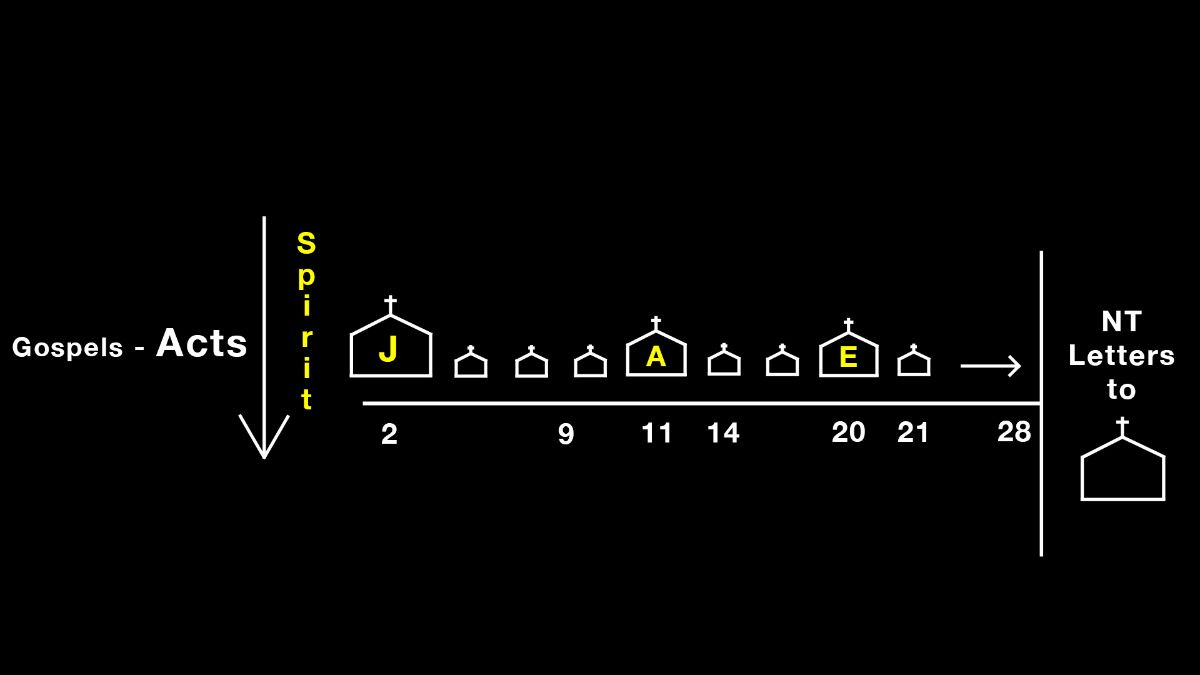 You have the book of Acts, which shows how the church starts. Jesus dies on a cross, he ascends to the Father, he sits on a throne, and as Lord he sends his Spirit. The Spirit is how this whole thing starts.
The first thing he did was send the Spirit to get the church going. Then the Jerusalem church forms organically. A few other churches start and persecution gets started, which pushes the church out to the ends of the world.
The Jerusalem church becomes the mother church throughout Acts, and you have another basecamp church in Antioch and another in Ephesus. It takes about 24 years. Some of the greatest events of church growth have happened over quarter-century periods, like the growth after the Civil War.
You have three missionary journeys that happen, and the third one is really just going back through the churches to help organize them a little better. This is all a very organic process that has to get organized a little bit. Then the rest of the New Testament is letters back to these churches.
We'll dive into this more, but I want you to see that Jesus says he will build his church.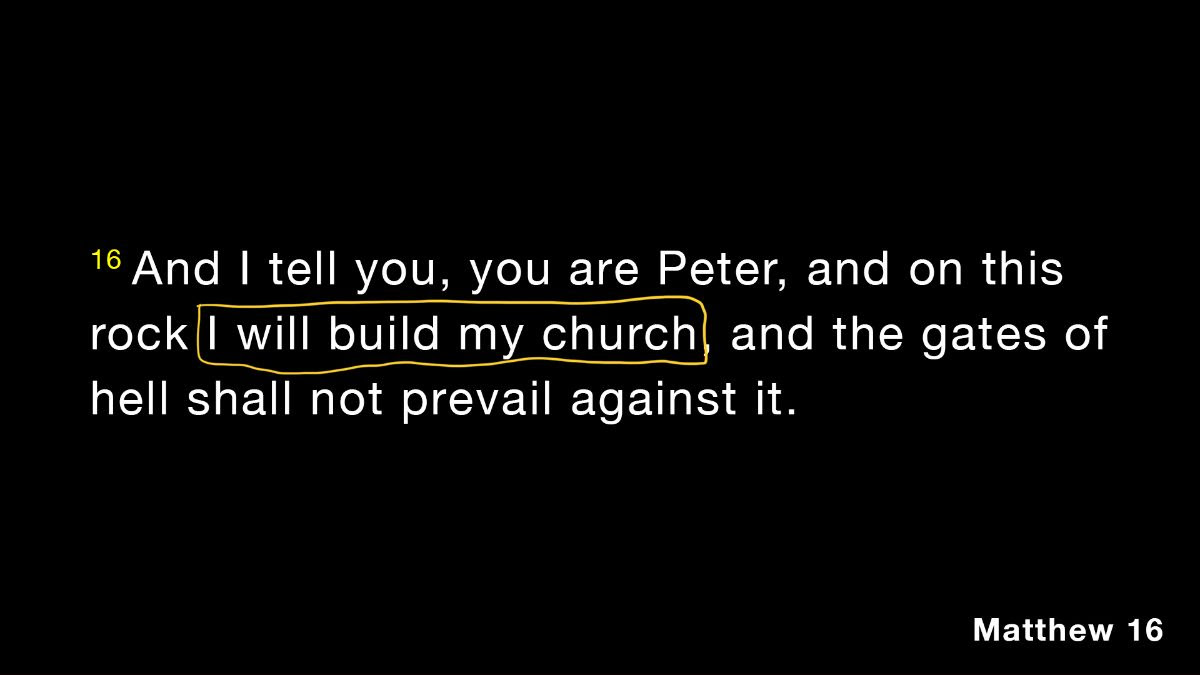 What is this faith going to look like when Jesus leaves? What has he been trying to prepare everyone for?
This is your beginning, Hillside. It's going to shape everything that happens after it. The Spirit creates it and gives it its form. It becomes a worldwide religion.
Most religions are geographically oriented for certain cultures and certain geographies. Not Christianity. It starts in Jerusalem and gets all the way to Rome. There are no racial or geographical barriers. It's for everyone and everywhere.
Peter's message is essentially, they crucified him, he rose from the dead, that's why it's universal. Why do you think Jesus is the only way? Because he rose from the dead. Do you know anyone else who rose from the dead? This is a religion for anyone who dies. He solved the biggest problem we have and then provides the Spirit and saves.
If he's Lord, he dictates everything else going on in your life.
When they hear this message, they say, what are we supposed to do?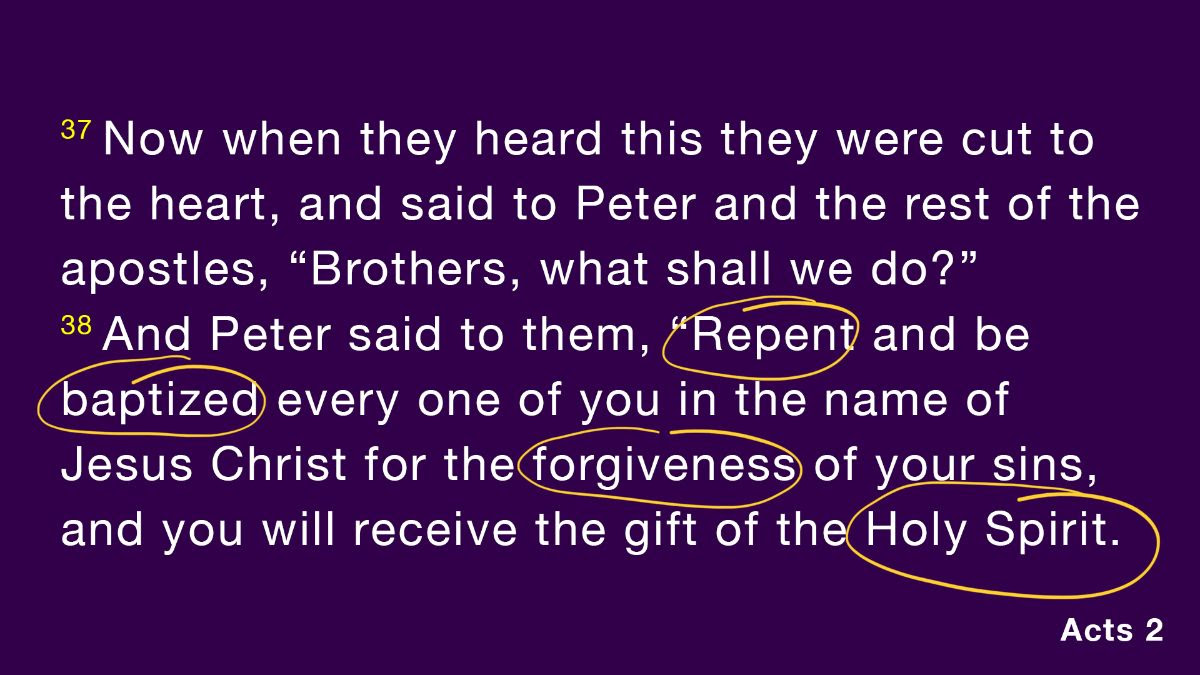 Repentance, baptism, forgiveness, Holy Spirit.
All of these elements transform your life. I could preach here until I'm 99 years old and I can't tell you more than these four things. I've got nothing else to give you.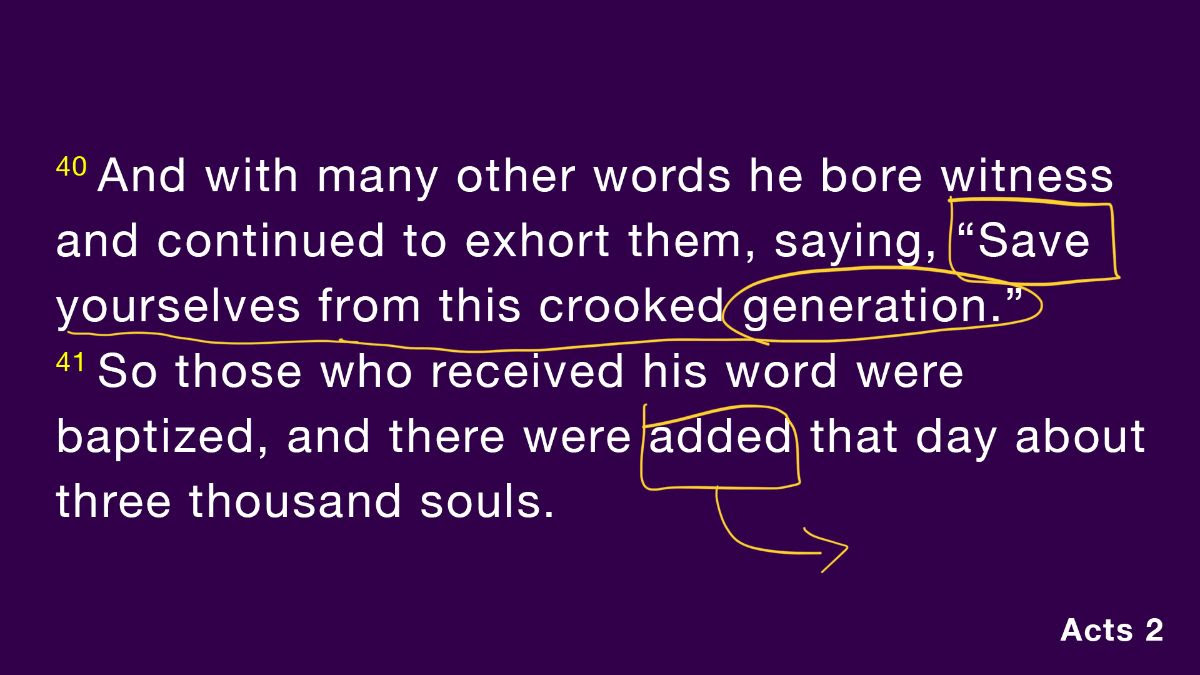 We translate this very individualistic. But it's not just about you. Whatever salvation is, it's not just from an individual's sin, but a whole generational thought process.
The culture they lived in was driven by many things. Even to this day, when we define ourselves as a nation, we do it by generations. The generation of the Great Depression, the silo depression, the baby boomers, X, Y, Z, Alpha. What you see is that this is how we define each other. Each culture defines itself differently. This is your viewpoint of reality, how you see yourself in that generation and everyone else.
Reading a book called the Psychology of Money. Different generations see money differently. The generation we're in now obviously views money differently than from the one from the Great Depression.
No one person makes up a generation. You're part of a culture that thinks a certain way. Each of us is defined by these economic, sexual, relational, etc. ways of thinking.
You can poke holes in every generation. God is not trying to just save individuals, but create a whole new culture. When you come to Christ, you're getting saved out of a generation. It doesn't matter what relationships or technology or experiences you have, you need saving from them.
How do you get saved out of a whole generation? You have to join a new generation.
People in the New Testament are experiencing that experience. You're getting rid of the labels. It all gets set aside for this new generation, culture, and society, and identity. A Counter-Culture. You are not a culture by yourself. You can't be changed unless you are taken into a whole new culture.
So it's going to shape you, economically, socially, psychologically, intellectually.
The church is not simply an aggregation of individuals who are saved, but a pilot plant of people who live under the lordship of Christ. You can't be human alone. Whatever God makes you, he's making you into a community together. Not just you in your house watching TV.
We have to do the math through Acts. There's no subtraction, only addition. There's some subtraction, but you won't like it. I prefer to be added.
What are you added to? And why does that math become important throughout the rest of Acts?
You can't turn the world upside down on your own. You do it through a new race, society, and culture that you get added to when you become a believer. For all these things to change about me, how is everything about me going to change if I don't join a group?
How am I going to contribute to the change of others? And be a part of a changing culture?
This new community is not called the church yet. We don't know what it is yet. And you'll be surprised when it's called that for the first time. For now, it's just starting to take shape.
One of the major characteristics of this text and this group, is what would it be? They were together. They experienced the Greek term "Koinonia." They shared everything in common.
What are you added to? This community of people.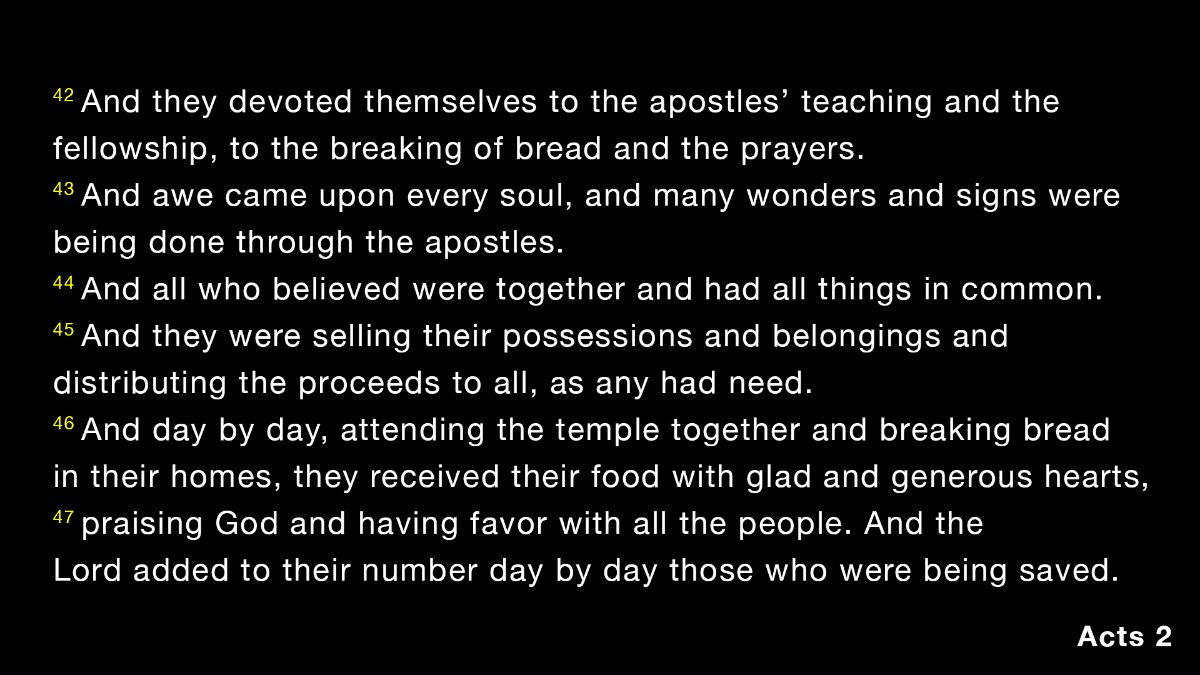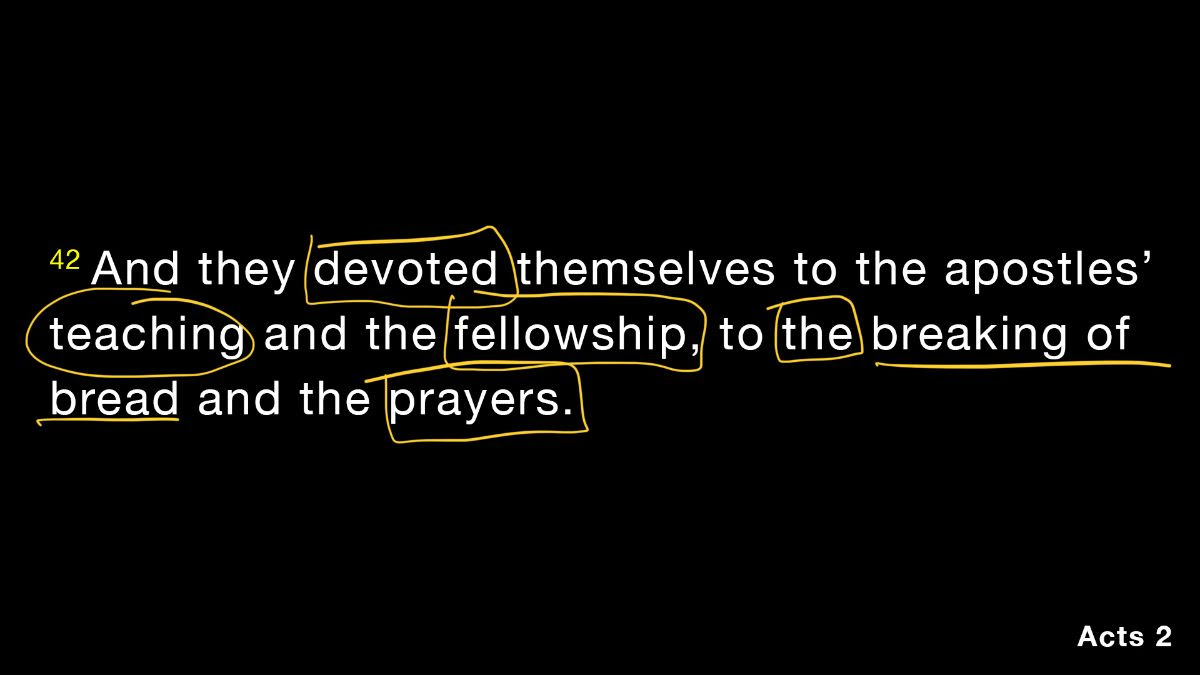 This is embodied engagement. I have to be there to do the things described in the church. Embodied engagement is really what koinonia is. One of the major translations of that word is sharing everything in common.
What are they devoted to when they're together? First, they're committed to the teaching. We're learning a whole new way of life, and we are taught in many ways.
When they were together, they met in the temple. And they all met in houses too. We have to have a big meeting and have to have little meetings. This is the only way to become this counter-culture we're supposed to become.
Fellowship is an important word, because being together requires care and reassessment of what we value. Everything we value is reassessed together. Left alone, you'll become a nutball. Somebody has to evaluate the dumb thoughts we woke up with today. There's no way you're changing a culture alone.
They had the breaking of bread and prayer. All these things are organically happening together. Nobody seems to be telling them to do it, it's just happening.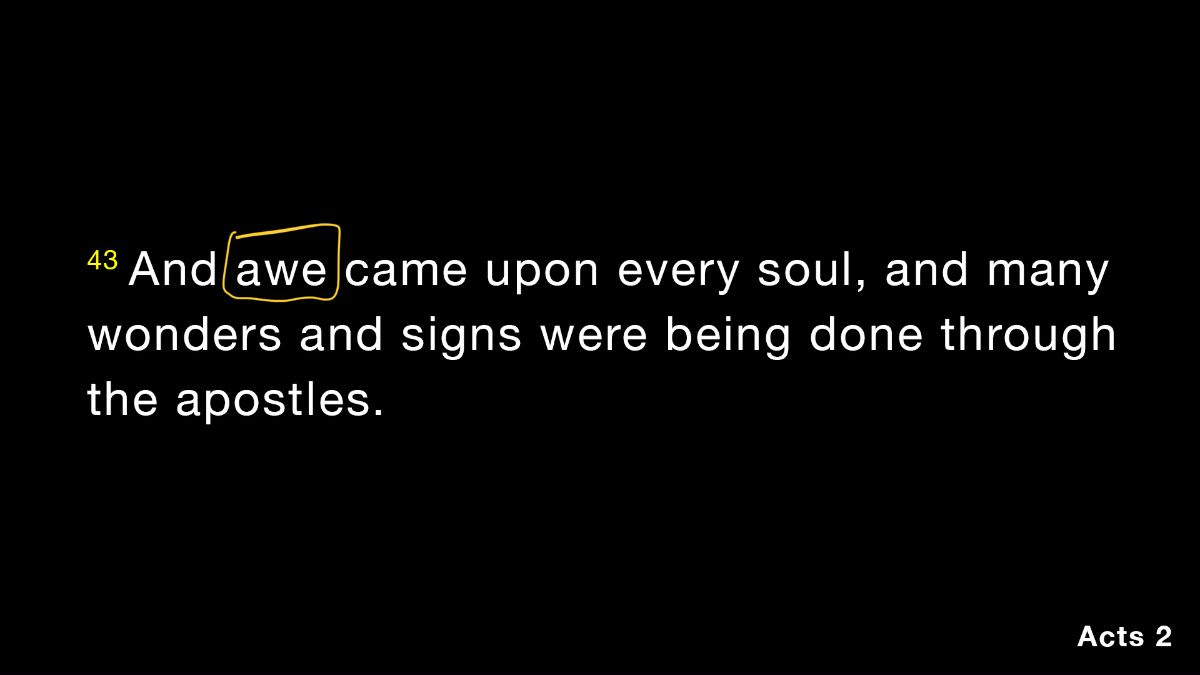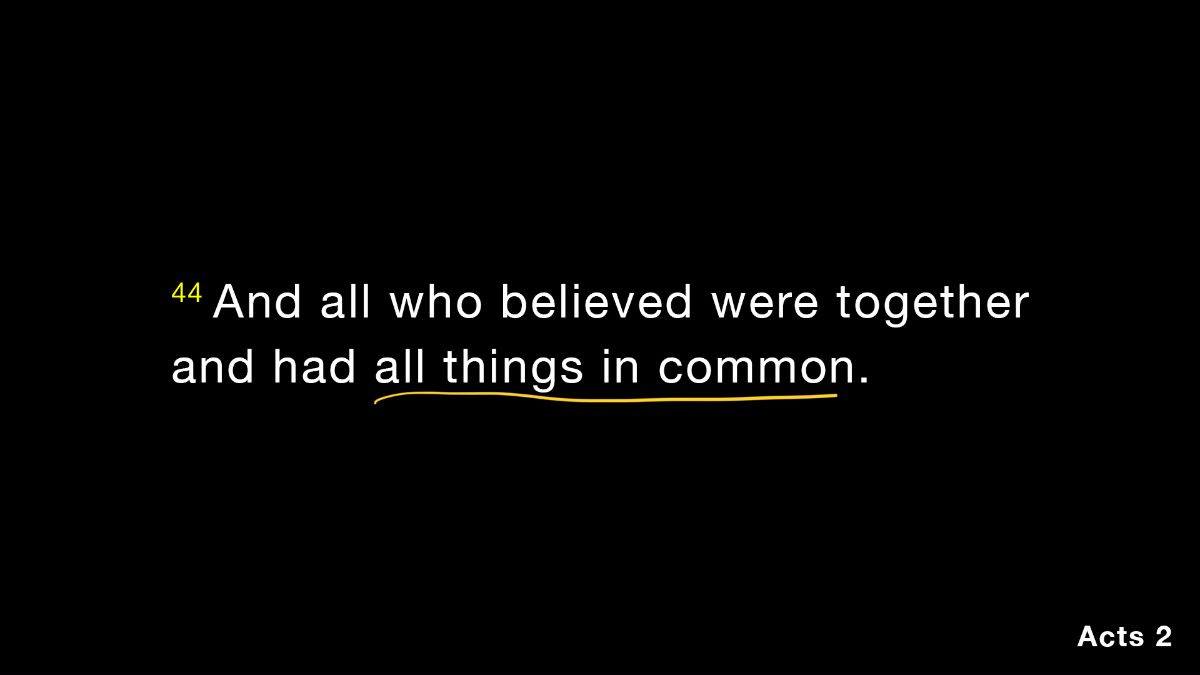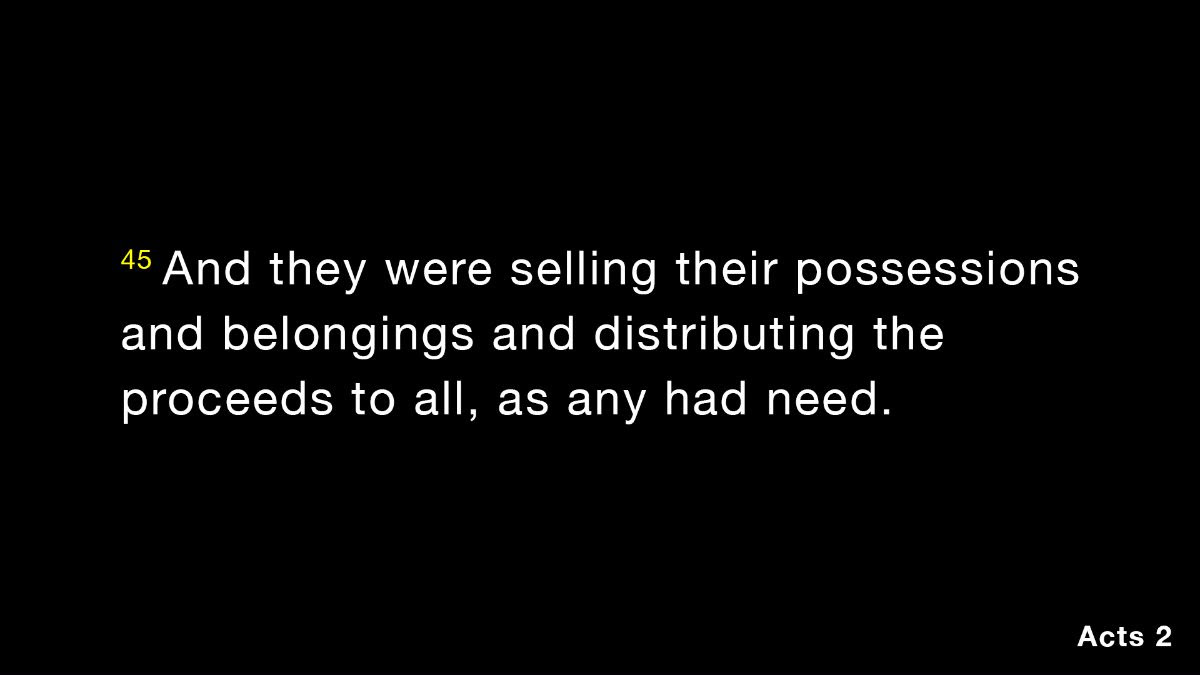 One issue they had with all these displaced people was how to care for one another with all these people coming together in homes.
A reshaping of your economics is important. If the economics of your life have not been reshaped by Jesus as your Lord, then you're not living in the same kingdom economy.
Your economics change because Jesus is in your life. You have different money issues. He dictates our economics.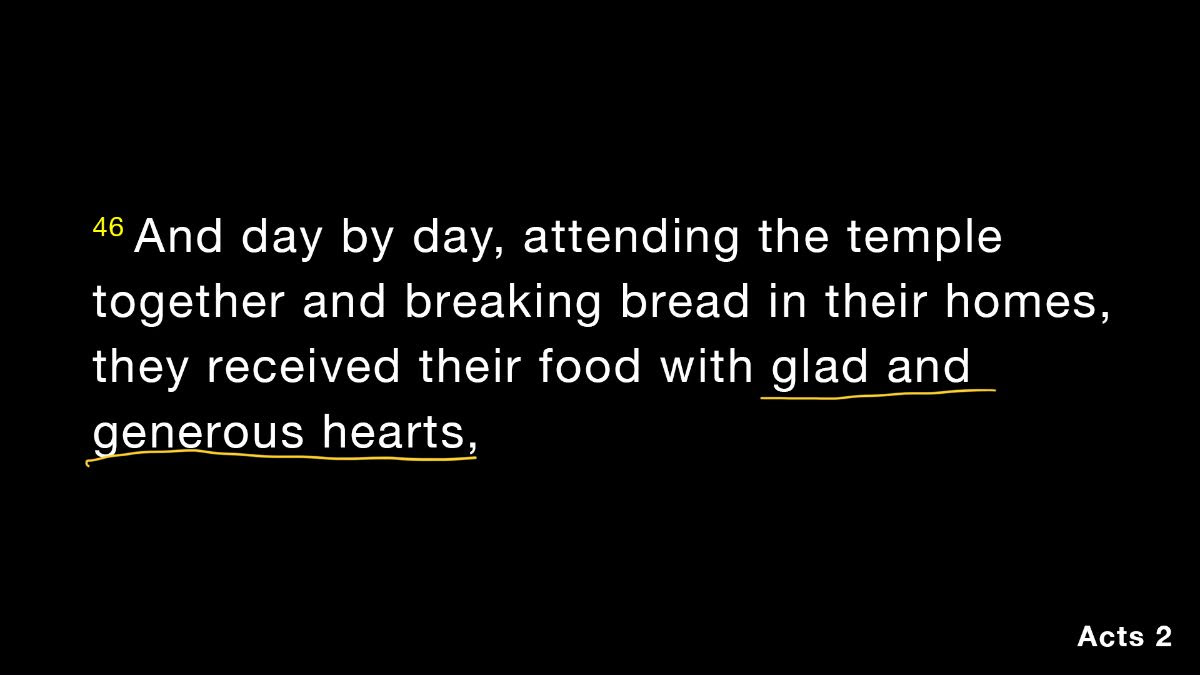 Glad and generous can go together. Your economics change. Your view of community changes. And it brings you joy.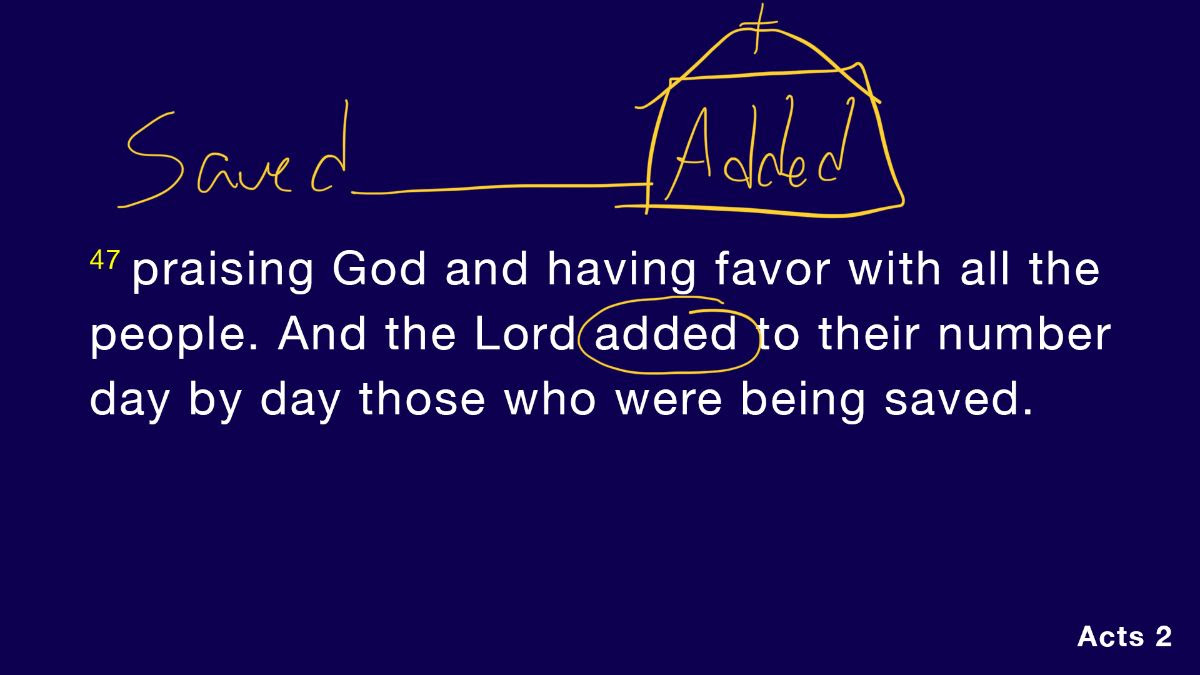 This is a culture that is diametrically opposed to Christianity, but they're seeing how the church is blessed.
What are you being added to? Not just heaven's role. You're being added to the church.
It's going to be attractive to outsiders.
Everything you think you can do alone in Christianity, none of them can be done alone! Not even witness. When you witness you have to add them. What are you adding them to? The kind of witness God wants done to the world cannot be done in isolation. Your life alone is not enough for the picture God is drawing for the world. So they're added.
God doesn't just want people saying, I want what YOU have. They should say, I want what THEY have.
Your salvation is not solely individualistic. One of the surprising things in the New Testament is that salvation is not just about you. You get saved and you get added.
There's no picture of getting saved and not getting into the church without getting weird.
Soteriology, the study of salvation, leads to the ecclesiology, the study of the church.
If you see a Christian outside the church, it's like seeing the Lochness monster or a Sasquatch. We'll see a Sasquatch in Acts 19.
Salvation is incorporation. They both happen together.
Persecution happens against the church, not just individual believers in the New Testament.
People who love God are gathering all over the world where they're not allowed to, because they can't keep themselves away from it. Persecution is happening in churches, because that's where you find the people. No one outside the church is turning the world upside down in Acts.
They were called the church long before they were called Christians. Antioch is where they're first called Christians, and it was because of their church life. Their Christianity surfaces because of their life in the church, not the opposite way.
If there was ever a time after the Jerusalem church started to bail, it would have been when persecution started. But all that happens is that more churches get started.
You'll start to see that salvation leads people to the church and adds to it. Believers become identified with the church. The church holds an authority that no individuals are allowed to have on their own. And you start to see it get organized with elders.
I want to show you something powerful. We're looking at the text where they break bread together. 1 Corinthians 10.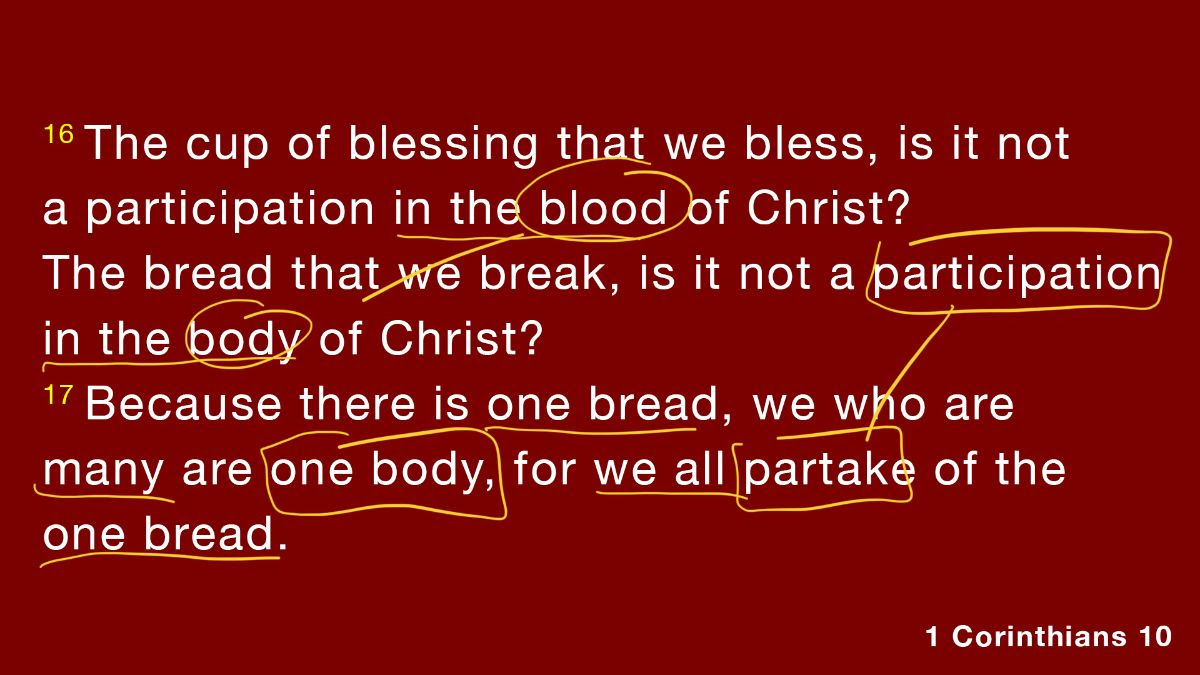 Communion is participation in the body and blood of Christ. Because of our participation in him, we are partakers in the church body. The body in communion and the church body go together.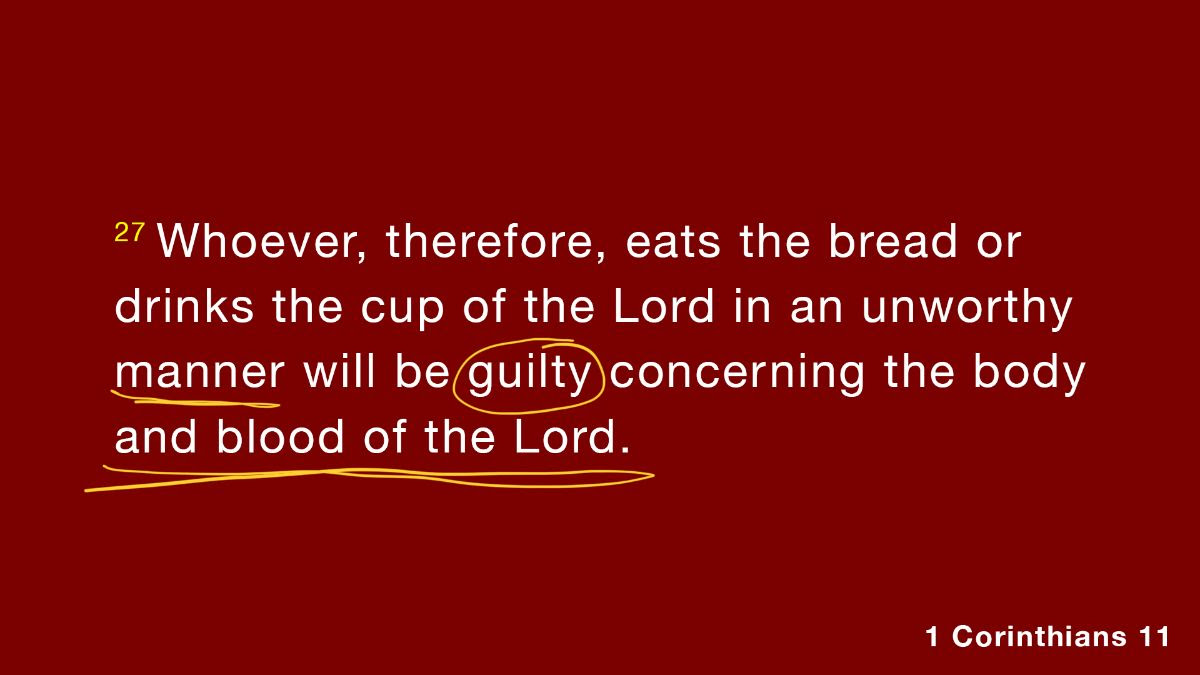 What does it mean to take the cup in an unworthy manner?
V. 26 says when you take it, you're proclaiming his death until he comes. If you take it in an unworthy manner, you're liable for his death. Who knows what Paul means by that? I just know I don't want it to happen to me.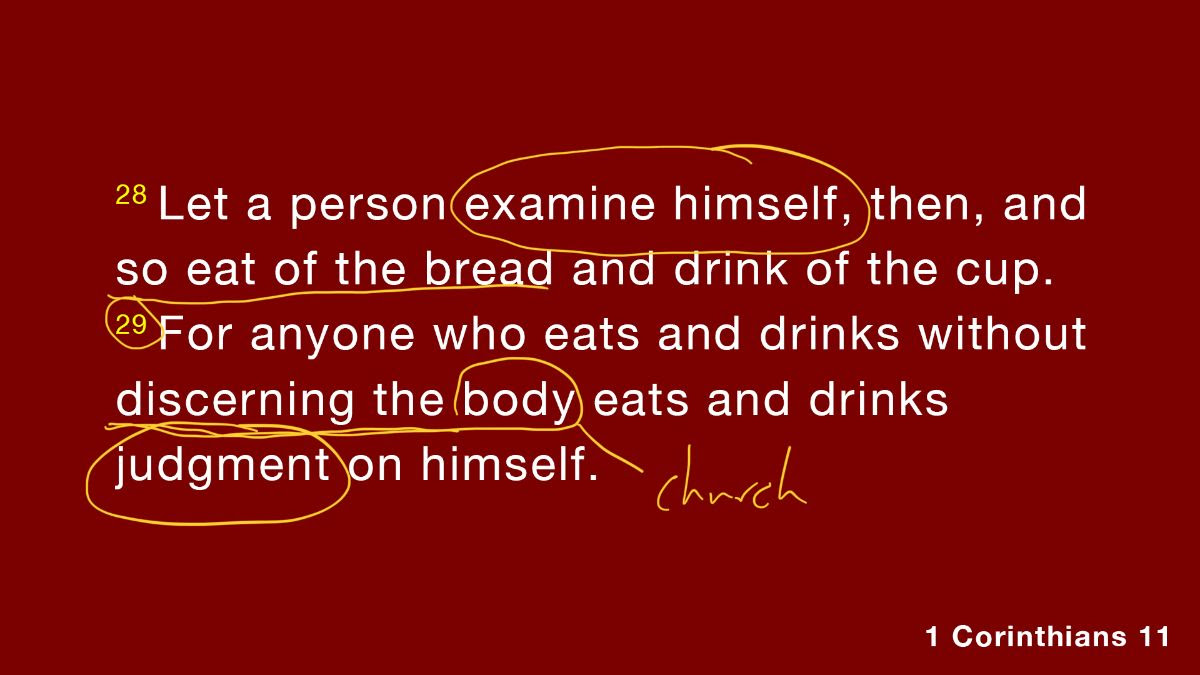 How do you know if you're taking it in an unworthy manner? There's a test. You have to show up for the test.
If you drink that cup in an unworthy manner, test yourself by asking, am I a healthy, caring, contributing member of this community? Or am I just here? Am I a consumer or a contributor? Do not take it if you're not relating well to this body. You can't take it alone, because it's a community test. If you have problems with the church and have not once said to yourself how you are the problem, you have not taken that test.
You cannot take it yourself or judge yourself. It comes from the Lord and his body, the church. Who are you testing yourself against? The rest of the group. You can't judge yourself. The church is supposed to do that for those inside it.