Discussion & Practice
What stood out most to you in this sermon?
Read Jonah 1:1-3. Where might you be running from God's presence and his will for your life? Where have you disengaged from culture out of frustration over it?
Where specifically have you noticed any disconnect in your life from the mission of God?
What do you get most excited about in your life? What do you get the most angry about?
Where have you been more excited over unimportant matters of your own comfort, like Jonah with his shade plant, than over the eternal consequences of people's souls?
Practice: Spheres of Influence. Last week we started looking at our sphere's of influence. If you haven't started this yet, write out all of your spheres of influence (work, school, neighborhood, gym, etc.) and fill in names of unbelievers. Start praying for opportunities to share the gospel with them and for other opportunities with people outside your spheres of influence. Pray for God to replace your apathy with enthusiasm for sharing the gospel.
Notes
We're kicking off the year asking the question, "Who really cares?"
Our culture is a breeding ground for chronic apathy. This is universal. Everyone is apathetic. But we're primarily concerned with the apathy of the church and how it affects our relationships with God, our calling, and our mission.
Spiritual apathy is an absence of care.
Book: Overcoming Apathy, "Some things evoke passion in us while others produce yawns. The paradox of apathy is that we are captivated by things we do not really care about and lukewarm to the things that should mean the most to us."
There's kind of an anger and fear and sense of hopelessness in our culture that results in various forms of escapism to take the pain away—anything to distract you from the deep inner turmoil.
It should be noted, as we talk about Acedia, apathy, sloth, that we are busy. I guarantee you're exhausted. We're all very active and doing lots of things.
Norris: Acedia and Me "We appear to be anything but slothful, yet that is exactly what we are, as we do more and care less, and feel pressured to do still more."
I think we have to ask, is it ok in light of culture and where the world is today to be apathetic? Apathetic to praise, prayer, mission, caring about anybody.
We sort of back up and ask ourselves if God is done with the world. Is that a spiritually safe place to be? Are we safe to live in that place? It doesn't feel safe to me.
Another book on Apathy: It's like an elastic waistband that stretches over time, your soul grows loose with apathy and it ceases to hold us up.
I'm on this journey with you. I'm doing two things to walk you through that process that I'm doing as well.
The first thing I'm trying to do is reconnect to the heart of God and his mission with people.
This apathy is a disconnect from the purposes of God. It's a theological problem first. There's not a quick fix to this problem in your soul.
I'm going back to the beginning in a number of ways. We have to get acquainted with God's love again.
Commentator: Perhaps we could say all theological problems play themselves out, not merely in our intellects, but our in our commitments and desires and identities.
The second thing I'm trying to do is reengage with the world in a loving way rather than an angry way. I'm taking baby steps to reengage from the world.
I wondered if I even needed to stay in ministry because of this apathy. I was happy to disconnect. But I am reengaging the world and it's working.
I don't want you to start doing a bunch of activity and not have your heart change.
There have been great opportunities. It's not hopeless. People are really willing to engage.
Culture has one sort of demeanor, but underneath it is real humans with real problems and needs.
My place to do this is in the gym, so I've gotten back into the gym. I had been working out by myself after the gyms all shut down. I would prefer to work out where I can engage people.
One of the trainers at the gym saw me, and I hadn't seen him since I left. He invited me in to train a couple of times.
He runs up to me and hugs me and starts talking. 12 minutes went by and all he did was tell me about what has happened to him over the last couple of years. He has been apathetic and lost his marriage, didn't want to work… He invited me to work out with him this week.
He's open. People are open. That's happened to me about 8-9 times now over the past few weeks.
We need to assess our hearts right now before we look at how we engage. We need to have our hearts change before we engage in a bunch of activity.
Jonah is a really good book for this. I have a favorite book in the New Testament and one in the Old Testament. Jonah is my favorite in the Old Testament. I've taught Jonah more than any other book in the Old Testament. I can't think of a better place to go to address our apathy.
I went back to it and thought that there has never been a time I have personally connected to Jonah as much as this time.
God's going to send Jonah to a really bad place.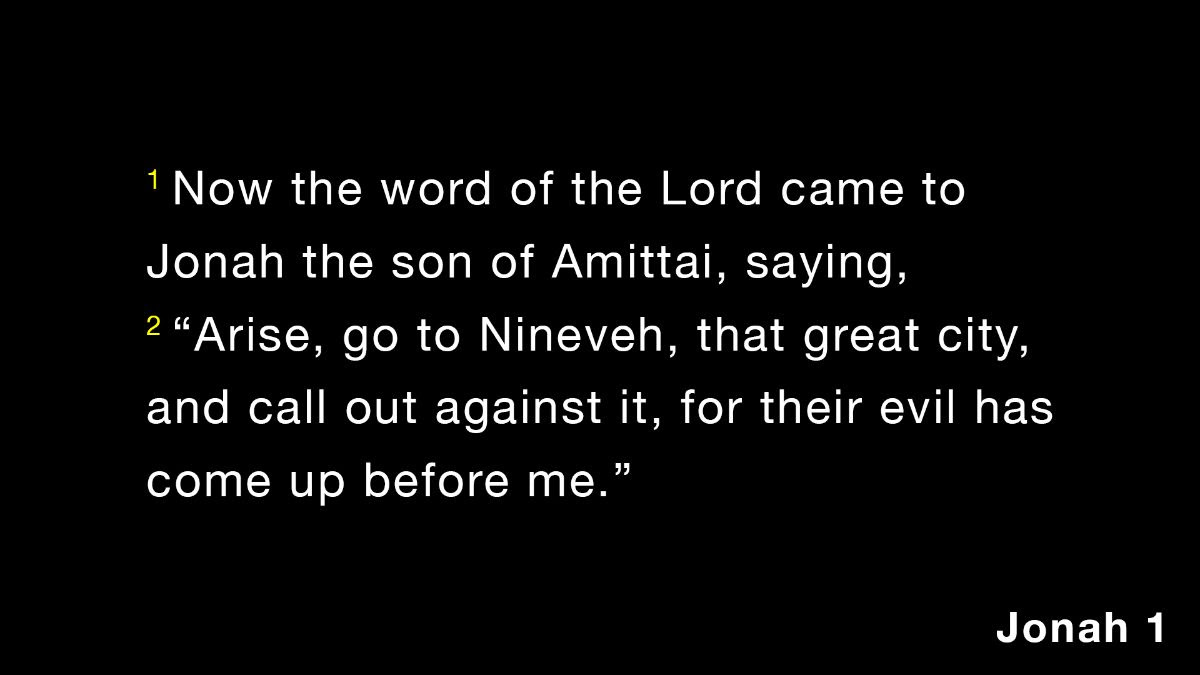 God wants to send Jonah out of Israel to this incredibly evil city. They are ISIS on steroids. Jonah is thinking he won't even survive that conversation.
God says, rise up and go. Jonah rises up and goes the opposite way.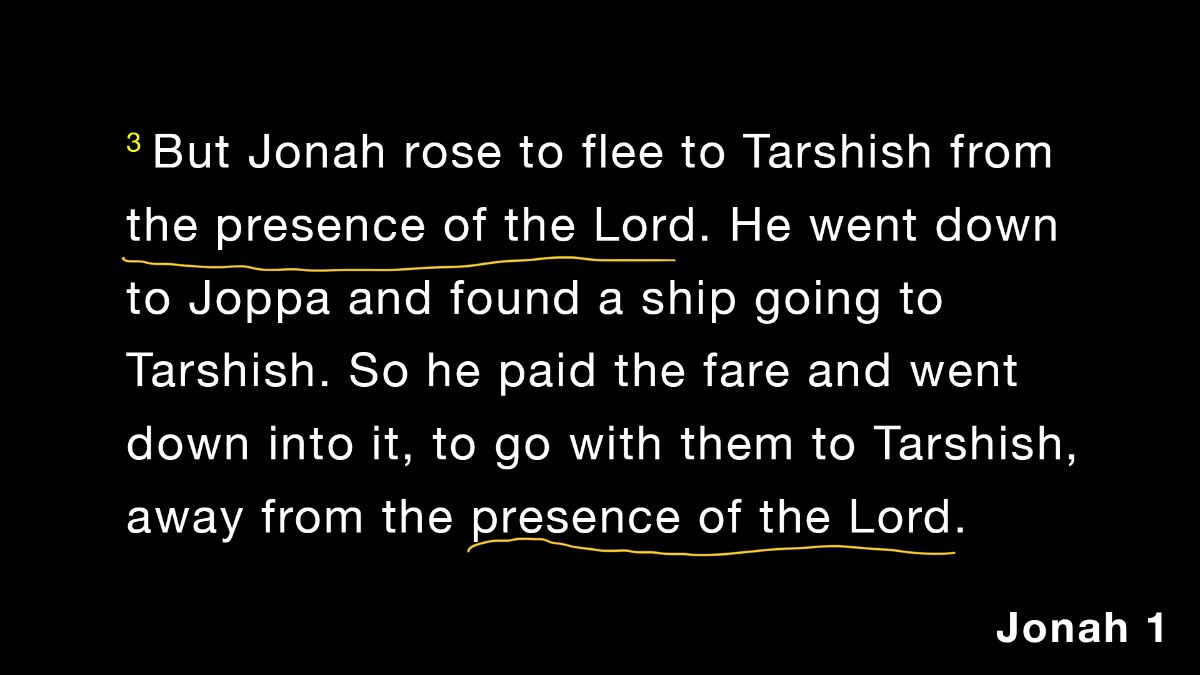 Whatever else it is, apathy is running from God before its anything else. Apathy is a disconnect from God.
Jonah is doing the exact opposite of what God wants. Nineveh is East, Jonah goes West to Tarshish.
It's as if you can hear God in heaven say, Ok, I've got a runner.
Jonah is running for a number of reasons. Nineveh is evil. Jonah loves his own country. He has a nationalistic heart.
Commentators point out that this is the Old Testament version of the Prodigal Son story. Jonah is actually both brothers. In chapters 1-2, he's the runner, he's the younger brother. In chapters 3-4, he's the older brother who is sulking.
You can be far from God even with close proximity to God.
You may not know anything about Jonah except that he gets swallowed by a fish. This storm comes because he's running from God, the people throw him overboard, he gets swallowed by a fish, and he reluctantly goes to Nineveh to preach to them.
This time Jonah goes and preaches a message of judgment. The Ninevites hear it, are scared to death, and turn from their sin. God forgives them and it displeases Jonah exceedingly.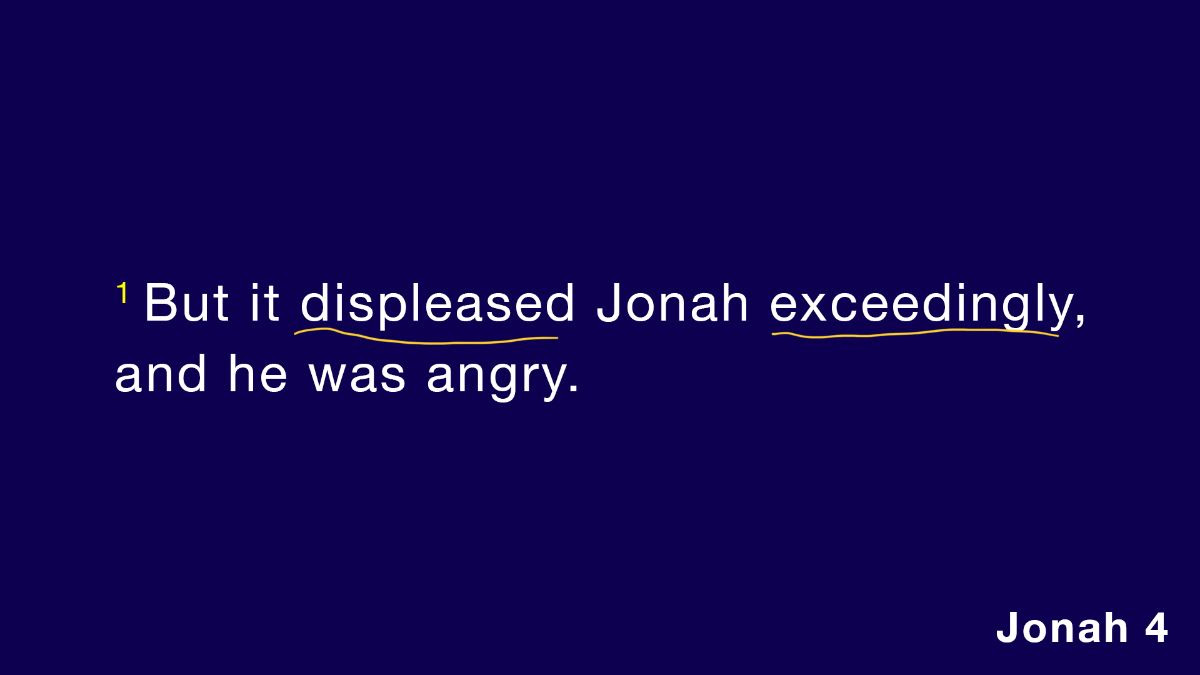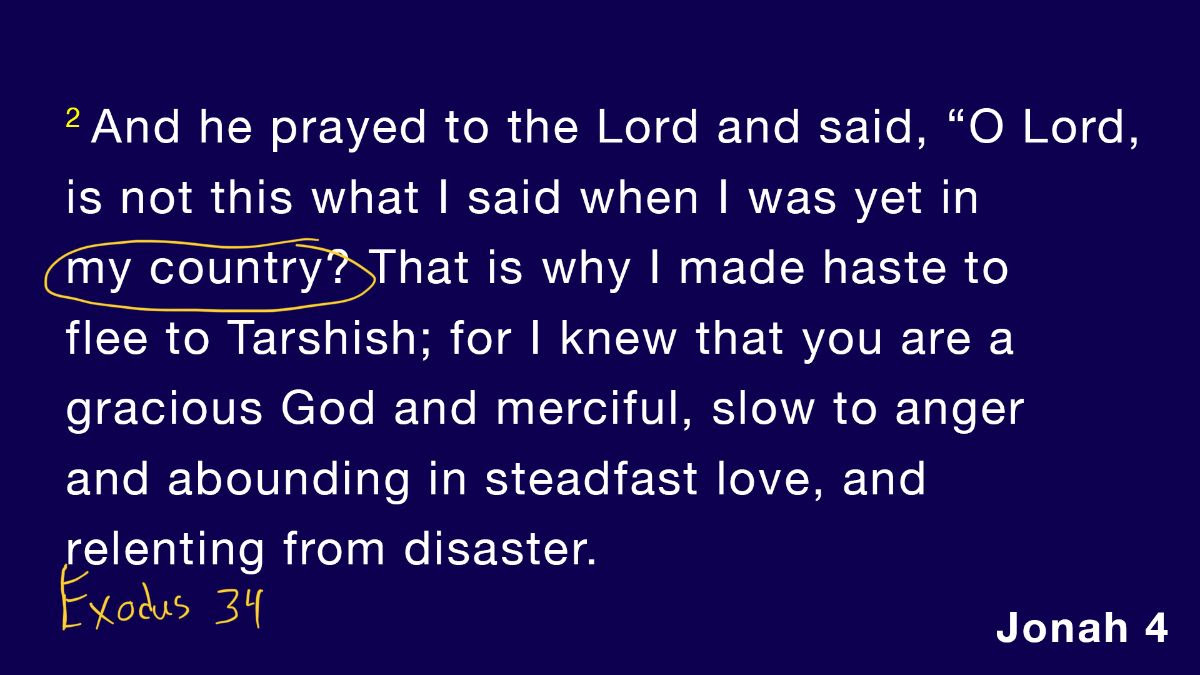 Jonah is indicting himself by going all the way back to Exodus 34 and saying that he knows that's God's mission and that he doesn't want anything to do with it.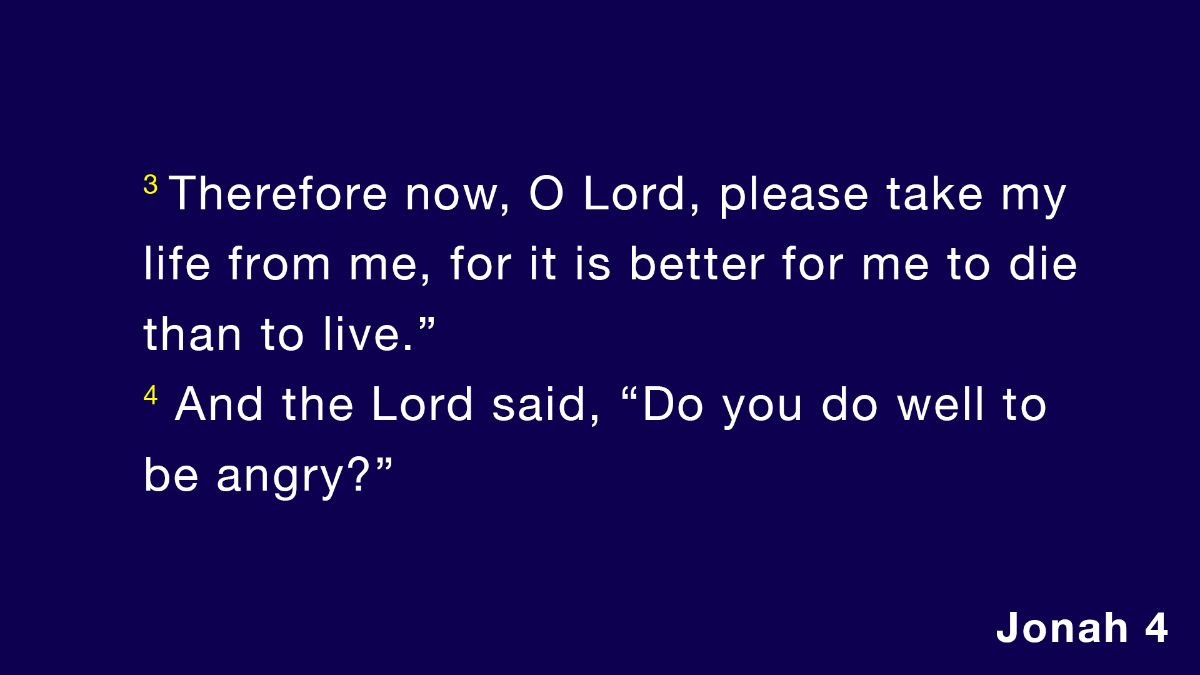 In chapter 3, Nineveh repents and God forgives them. Jonah thought that was evil. He calls God's redemption of them very evil. Jonah thought God saving them is a greater evil than their evil they committed.
Everyone connects death to sin. The guys on the ship know they're going to die because of somebody's sin. Nineveh begs to live because they know they are going to die. Jonah actually begs to die.
He essentially says that God's grace is worse than death.
God asks Jonah, do you think your anger is good? That's what we're asking in this series. Is our anger towards the culture good?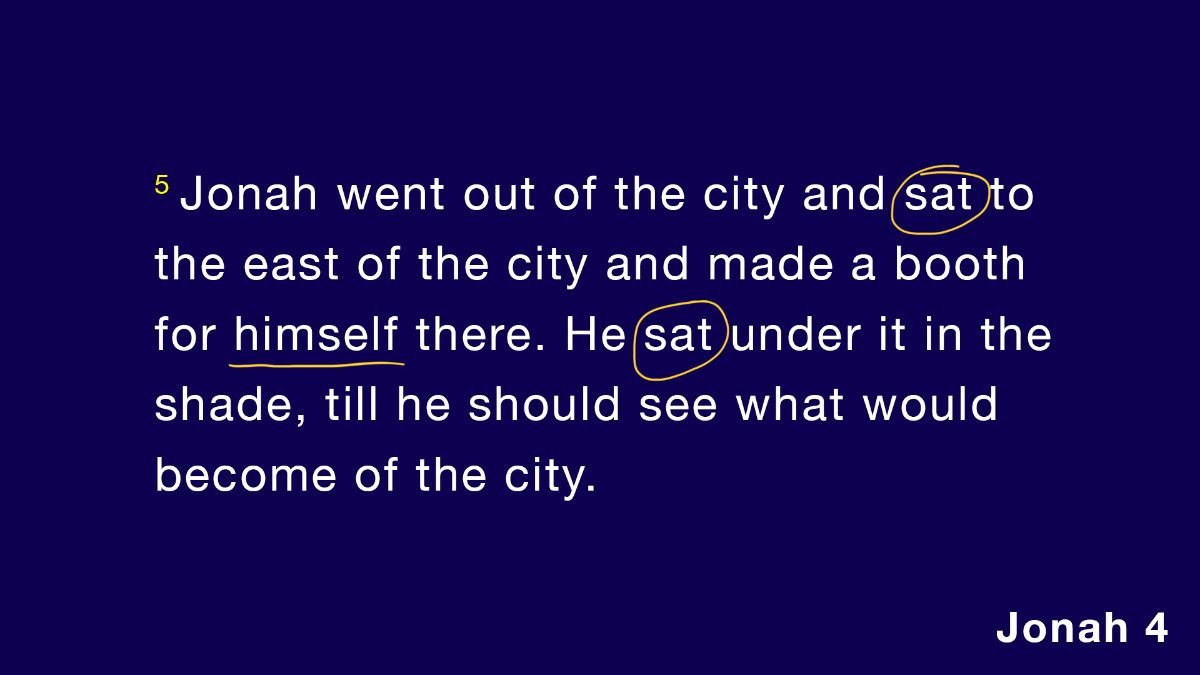 This is a really great description of apathy. I'm going to separate myself from the city. That's the first thing apathy does is disconnect. Then he sits twice. It's a double sit. Double lazy. No action.
He separates himself, he sits, and he makes for himself a shelter.
Apathy disconnects you, makes you inactive, then you just start serving yourself. That's the escapism.
What Jonah is hoping in building that hut is that he's going to sit it our for the long haul to see the city destroyed. He wants their sin to catch up with them.
Do you see God's problem? How do you deal with a heartless people? God has a plan that is very interesting for how he's going to deal with this.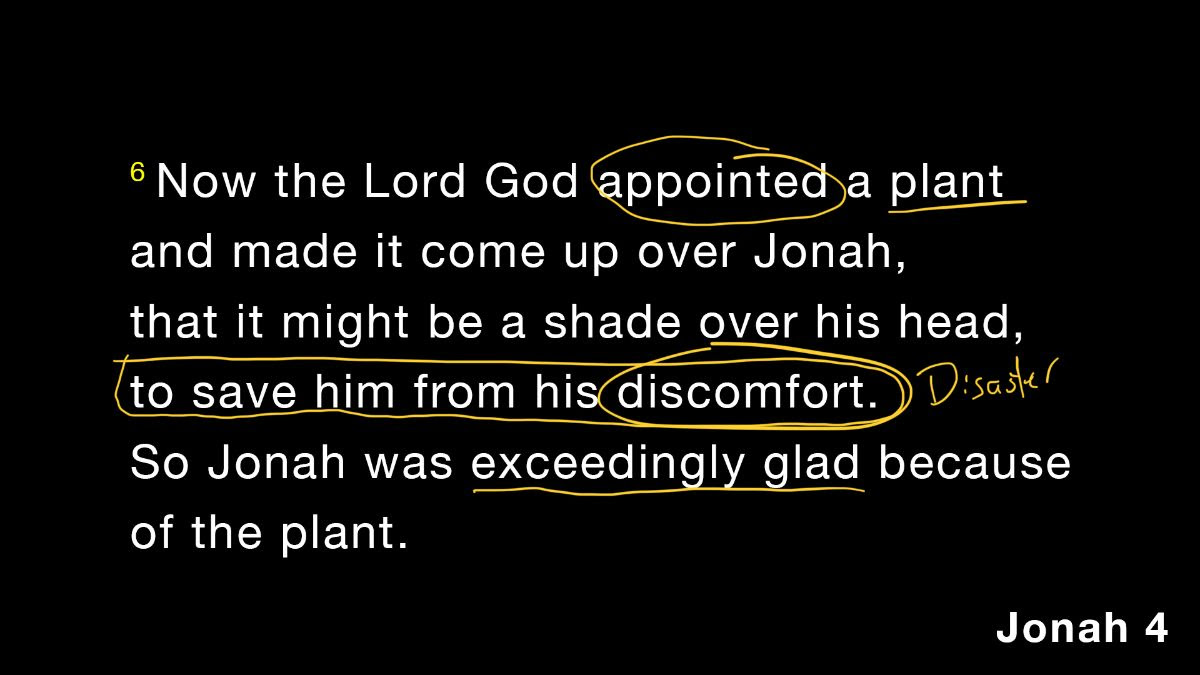 "Discomfort" is the same word in chapter three to describe the disaster that God is going to save them from.
God is saying, I'm going to save you, Jonah, from your disastrous situation and where your heart is. If you're apathetic, you need saving. God uses a storm, a fish, a plant to save Jonah.
This book gives you a sense that Jonah is harder to reach than the Ninevites are.
I'm looking at my church that's angry at the culture. I'm looking at the culture that is a mess. But it's going to take more work to get the people's hearts right. All of God's efforts in this book go towards Jonah.
Pagans and nature obey God faster than Jonah does.
We get a deeper look into Jonah's spiritual pathology. Apathy is a disastrous thing we have to be saved from.
Jonah is self-absorbed. He sees God's grace as "very" evil, but he is "very" happy when God gives into him.
It's like, I love God's grace for me and hate it for everyone else.
God now appoints a worm. This story has a whale and a worm.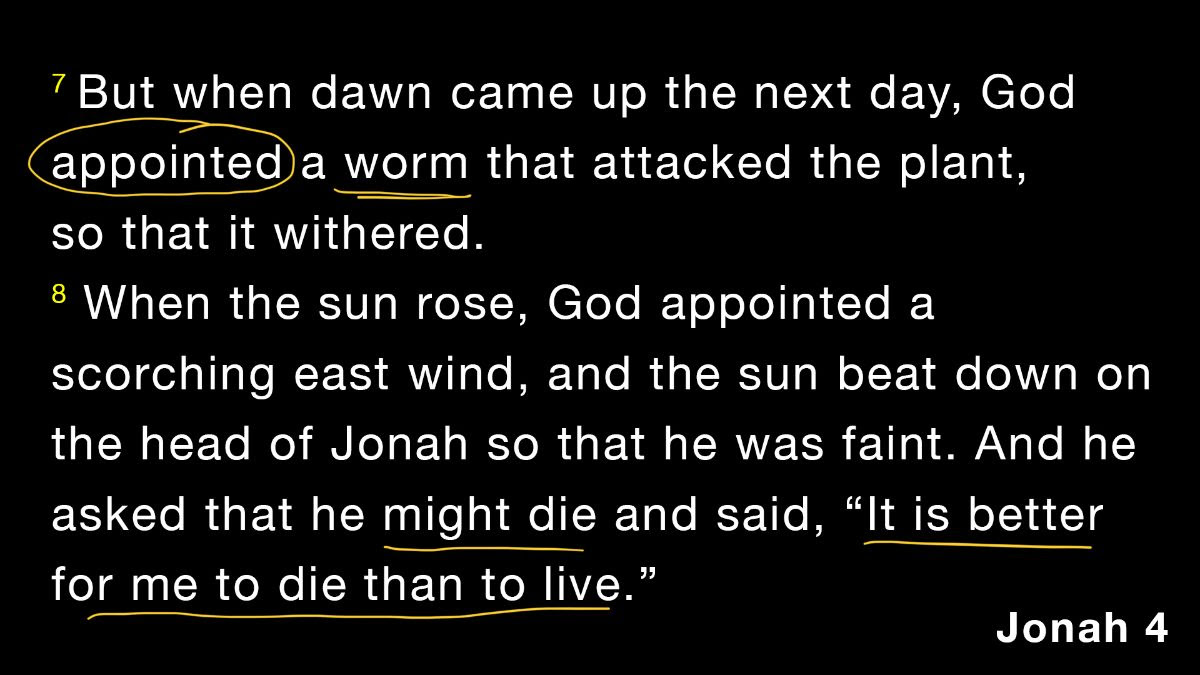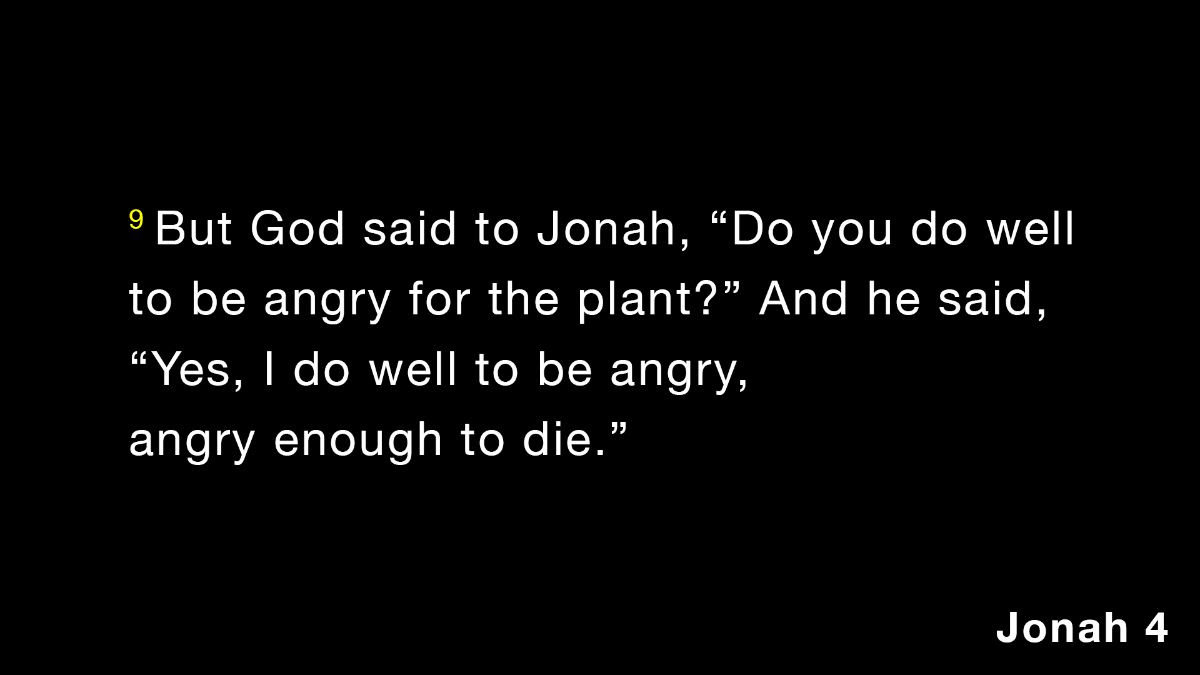 Is it ok to be angry about the plant? He's basically saying, God, I love your grace towards me, but I hate it towards the evil.
Jonah receives God's grace, but he's not changed by it. Jonah wants God to be gracious to him, but for it to not change him into a gracious person.
Commentator: He has reached rock bottom spiritually, theologically, and emotionally. It is a very dangerous place where Jonah is,.
Jonah is showing how messed up his values are and how fickle his heart is. When you get apathetic and God is not determining what should be valuable in your life, that's a bad place to be. We're not praying for our neighbors and city, we're praying for our kids to get into college and for other blessings. Jonah is praying for sunblock!
Jonah's heart will attach to anything that will serve him. He's happy when God gives us something and sad when he takes it away. We're just praying for comfortable things. That's spiritual apathy.
When you're in this apathetic mode, you will pray for God to show up in your life. For any apathetic person who is praying for anything except lost people, you can see the insanity of that.
The smallest thing will make you thrilled when you're apathetic about the big stuff.
God's blessing in your life is not supposed to stop with you, but to go out to others.
There are certain things in our culture that are utterly ridiculous. You can start to feel really right about your anger towards culture. It's justified on a number of levels. It feels right. But this is like another real trap for the apathetic.
Kathleen Norris: Anger over any injustice may inflame us. But that's a double edged sword. If our indignation feels too good, it will attach to our arrogance and pride and leave us ranting in a void. And if we develop full-blown apathy, you won't even care that you're in that void.
You can be too angry.
There is a point where you can be too angry—so angry that God's love and character and mission disappear for you. You almost have to play God in your judgment of the world and take it from him and say, I'll handle judging the world now.
God's love puts a limit on how angry you can be at society. You want to be angry, you probably have some justification for it, but God's love is the limiter.
It's God who is going to ultimately dictate how I see and feel about things.
Then God, rather than address Jonah's escapism and self-centeredness says this to close the book: He tells him, I knew you would fall in love with that plant. You didn't work for it. You didn't make it grow. It came into being without you, and you love it like you made it. But you didn't make it. It was a gift. It was my grace to you.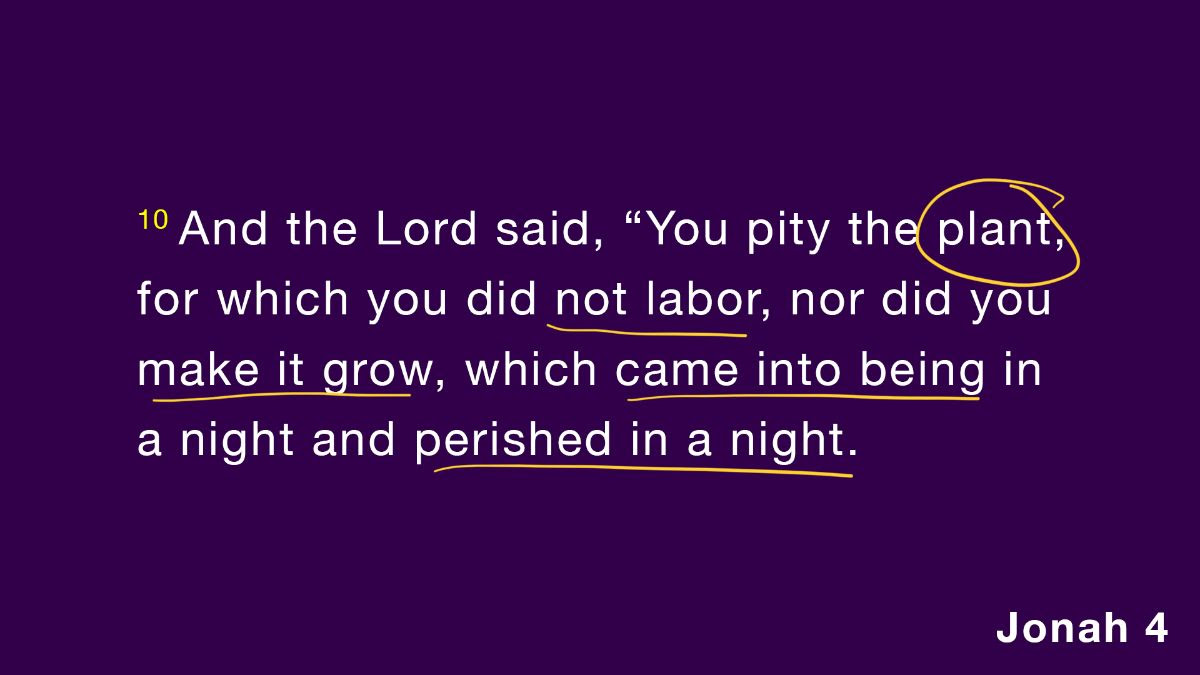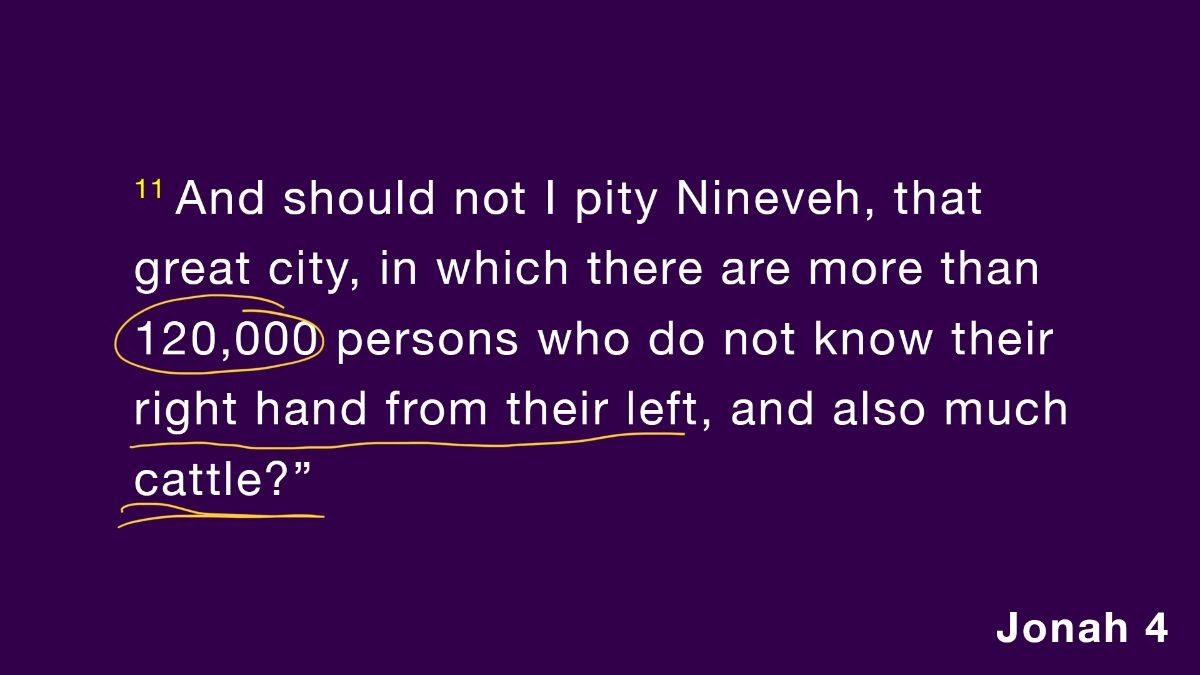 God is saying, should I not pity Nineveh? They're my creation. Their eternity is at stake. The line about cattle means that God is even thinking about their livelihoods.
Jonah quoted Exodus 34, he knows better about God's whole mission.
Should I not pity Nineveh is the whole point of this series.
God says, you pity the plant, I pity Nineveh. The word literally means, tears welling up in the eyes. God is crying about the city. Jonah is crying about a plant.
There was no eternity at stake for that plant, but there is for these people.
One commentator calls Jonah a religious monster. It's very possible we've turned into monsters. You think the culture has lost its mind, but if you are this disconnected from the heart of God, you are worse off and more crazy than culture.
You have to realize here, I am Jonah. I can honestly say I have been Jonah. I am Jonah and God is healing me.
Two groups of people in here need saving.
You might be Jonah as the sulking older brother [in the Prodigal Son story]. You just want to see culture go to hell. And God says, you need saving.
You got saved once in an ultimate sense, but you need salvation all the time. In this case, we need to be saved from our anger, hate, and self-righteousness.
I don't want to be harder to reach than this culture is. Heaven is using a lot of resources to track Jonah down when there is a lost world out there.
Have I become more sickening to God and this fish than the culture is that God has to puke me up? God, rescue us from this apathy.
Or you may see yourself as Jonah the younger brother. You're fleeing from God and doing what you want. You are rebellious and go from ship to ship to ship. You've been hell-bent on getting away from God. You need saving from sin.
You may even think God is not looking for you anymore. But that's not true. God cares for Jonah and Nineveh.
The moment Nineveh realized God might be gracious, they believed God and sat in sackcloth and ashes in repentance. Then God saw their repentance and their heartbreak over sin, he relented of the disaster he said he would do to them and pulled back his anger. That's God's compassion.
Jonah didn't know how far God would go to save him. When he got on that boat, he did not know how far God would go to save him from his apathy. Christ had not come and died yet. We know that. We have far less ground to stand on than Jonah did. We know how far God will go, he will give his life. For God so loved the world that he gave his only Son.
Is all that's at stake for you emotional instability when things do or do not go your way? Are you spiritually bipolar?
God wants to save both of us in this room.
All you've got to do is stop in your tracks and say I'm not running anymore. I'm going to turn from my sin, believe in you for my salvation.